Archives
May 2021
Oct 2020
Dec 2016
May 2016
Apr 2015
Dec 2014
Nov 2014
Jun 2013
Mar 2013
Feb 2013

Category - Westwood


Posted -

05/20/2016 12:26pm
Westwood triumphs at Wine Challenge
Westwood triumphs at Wine Challenge
Last Sunday, the world got to taste what several wine experts deemed to be the best 188 wines in the North Coast of California in the Press Democrat North Coast Wine Challenge.
Tiny Westwood Winery of Sonoma won the Best of the Best award and gold medal, rating a whopping 99 points for its Annadel Gap Clone 37 Estate Pinot Noir, of which there were only four barrels produced.
Westwood also garnered Best of Sonoma County and Best of Show. What a triumph!
Guests at the tasting at SOMO Village in Rohnert Park got to taste loads of wines and nibbles created by Sonoma County chefs.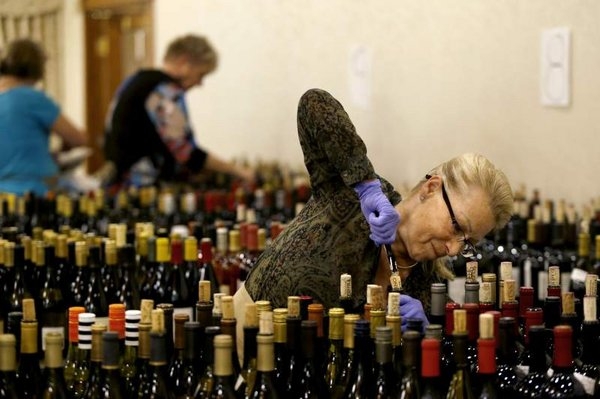 Among the other Sonoma Valley gold medal winners were Benziger Family 2013 Sonoma County Merlot (90 points), Three Sticks Wines' 2013 Russian River Valley Pinot Noir, Landmark Vineyards' 2014 Sonoma Coast Grand Detour Pinot Noir, Benziger Family Winery's 2013 Sonoma Coast de Coelo Terra Neuma Pinot Noir Buena Vista Winery's 2013 Sonoma County Private Reserve Pinot Noir, Westwood's Estate 2014 Sonoma Valley Estate Pinot Noir and 2014 Sonoma Valley Pommard Clone Estate Pinot Noir, Three Sticks' 2014 Sonoma Coast Durell Vineyard Estate Pinot Noir, and Gloria Ferrer Caves & Vineyards 2012 Carneros Pinot Noir.
In the red blends category, winners include Imagery Estate Winery 2013 Pine Mountain Cloverdale Peak Tusca Brava. Benziger Family Winery's 2013 Sonoma Valley Estate Biodynamic Tribute, Ledson's 2012 Sonoma Valley Estate Caudalies, Highway 12 2014 Sonoma Valley Red Blend, Imagery Estate's 2013 Sonoma Valley Pallas Estate Red, and Anaba Wines' 2013 Sonoma Valley Turbine Red.
Among syrahs, Ashton Vineyards, St. Anne's Crossing, Anaba and Hughes Family Vineyards all won golds. Only St. Anne's Crossing in Kenwood got two golds among zinfandels for its Shumahi Primitive and Rockpile Reserve Zinfandel. Ledson, Westwood and Imagery all garnered gold in "Other Red Wines," while Three Sticks, Carneros Highway and Roche got golds for their chardonnays.
Imagery ranked gold in "Other White Wines" as well as for "White Blends." Gloria Ferrer won three gold medals in the Sparkling Wines, while Sharon Cohn's Breathless and Domaine Carneros by Taittinger each won one.