About Sonoma Court Shops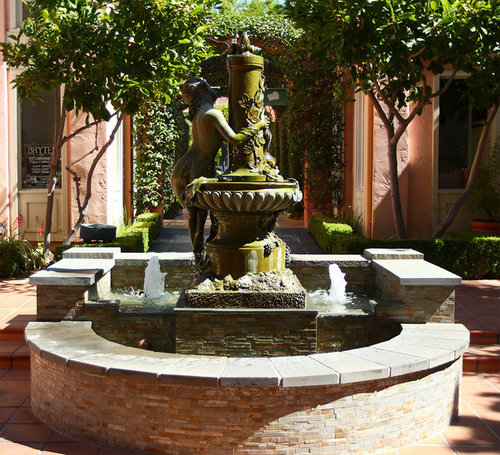 A Tranquil Oasis in the Heart of Downtown Sonoma.
Stroll through lush Spanish-style courtyards filled with unique gift shops, chic clothing and jewelry stores, boutiques, art galleries, and antique stores. Experience fine dining and wine tasting, shop for wine hardware, ship your wine finds home, have a spa experience, even get fresh-baked treats for your canine companions. You'll find it all here at the Sonoma Court Shops.
Centrally located on the south side of the Plaza, facing the historic City Hall, the Sonoma Court Shops have become a modern-day landmark and a visual anchor for this area, teeming with foot traffic. Visitors are drawn to its picturesque Mission-style architecture, sparkling fountains and tranquility—often stopping to snap a picture under the flower and vine-covered arches.
Fronting on Broadway as well, many of the shops, restaurants and businesses are housed in historic structures, which are integrated with new construction. The tree-lined boulevard of Broadway greets the thousands of visitors who come to the town of Sonoma and is part of the daily travels of residents.
Designed for mixed-use, the Sonoma Court Shops includes second story commercial spaces for businesses and service companies as well as urban apartment living and executive suites. With thoughtful use of quality materials and painstaking restoration of existing buildings, the new construction harmonizes with the character of the historic sections and establishes a distinctive overall identity for the complex. The Sonoma Court Shops is a truly delightful property, a thriving marketplace filled with discoveries; a vibrant business community; and an exciting setting for a pied-à-terre dwelling to experience the Sonoma lifestyle.

Sonoma Valley
Wine Country doesn't get more real than Sonoma Valley, whose rich soils mark the birthplace of California's premium wine industry—an achievement shared by Buena Vista Winery and Gundlach-Bundschu Winery.
It's the closest wine region to San Francisco, just 45 miles north of the Golden Gate Bridge. Cradled between the Mayacamas and the Sonoma Mountain ranges, Sonoma Valley is a rolling patchwork of vineyards, quaint farms and 13,000 acres of scenic parkland that has retained its original charm and pastoral beauty.
In the center of town, the eight-acre Sonoma Plaza is a National Historic Landmark and the largest plaza in California. It's grassy expanses and stately shade trees welcome visitors and residents who picnic and play in its beautiful park. Charming boutiques and galleries beckon with their unique artisan creations; cafes and restaurants abound from the casual to Zagat-rated finds. Stroll the artfully preserved adobe, brick and wooden buildings that surround the Plaza and get a sense of the town's history and its lively present.
Sonoma Valley Visitors Bureau
Best in Sonoma
Sonoma County Tourism Bureau
Sonoma Valley Economic Development Partnership
Sonoma City Website
Sonoma County Website