Archives
May 2021
Oct 2020
Dec 2016
May 2016
Apr 2015
Dec 2014
Nov 2014
Jun 2013
Mar 2013
Feb 2013

Category - Charles Pinot


Posted -

03/13/2013 02:45pm
Charles Pinot Says Cheers to Tony Magee With His New Book, 'Lagunitas Brewing Company, The Story'
press release
March 13, 2013, 9:00 a.m. EDT
Charles Pinot Says Cheers to Tony Magee With His New Book, 'Lagunitas Brewing Company, The Story'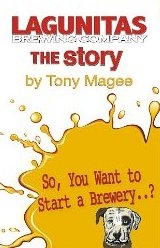 SAN FRANCISCO, Mar 13, 2013 (BUSINESS WIRE) -- Charles Pinot is proud to publish Tony Magee's wild romp through beer-land with his new book, 'Lagunitas Brewing Company, The Story.'Witty and irreverent, Tony Magee's off-the-cuff tale chronicles the birth of one of the craft-brewing world's most beloved breweries. 'Lagunitas Brewing Company, The Story,' is a laugh-out-lout funny tale that takes readers from Tony's earliest days as a lowly print salesman, nearly bankrupt and almost divorced home brewer, to his latest achievement, expanding his fantastically popular brewing operation from its Petaluma pied-a-terre to his home town of Chicago.
Beer enthusiast or not, readers will be continually amused as Magee recants story after story from the breweries earliest days up until the present. From tiffs with local officials, to the humorous sagas that come from moving the brewery multiple times, to creating Lagunitas' mirthful labels, the yarn keeps spinning until it spits readers out into the present day where Lagunitas is a successful, well-honed beer making enterprise - or so Tony would like us to believe.
"We're really excited to work with Tony. His sense of humor and hysterical stories have truly brought his story to life as well as kept our office in stitches. In addition to being a brewing genius, Tony is one of the funniest writers we've had the pleasure to work with," said Charles Pinot Book Division President, Chris Beaver.
In his infinite wisdom and characteristic wit, Magee says, "Beer speaks. People mumble."
Download or purchase a copy of Tony's amusing and inspiring business tale on Amazon at http://amzn.com/0985356456 and at http://CharlesPinot.com. You won't be sorry.
Charles Pinot is located at 550 Broadway, Sonoma, CA 95476
http://cts.businesswire.com/ct/CT?id=bwnews&sty=20130313005130r1&sid=cmtx4&distro=nx
SOURCE: Charles Pinot, Inc.
Charles Pinot, Inc.
Jennifer Wirth, 415-747-8122 ext.143
Marketing Manager
Jennifer@charlespinot.com