Archives
May 2021
Oct 2020
Dec 2016
May 2016
Apr 2015
Dec 2014
Nov 2014
Jun 2013
Mar 2013
Feb 2013

Category - General


Posted -

11/14/2014 04:44pm
Three Dog Bakery Honors Returning Military with Veteran's Day Promotion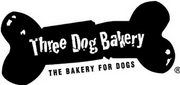 KANSAS CITY, Mo.
,
Nov. 11, 2014
/PRNewswire/ -- As the nation honors its servicemen and women on Veteran's Day,
November 11th
, Three Dog Bakery and man's best friend are doing their part by providing military veterans with service dogs. Three Dog Bakery will donate to FISH – Food Industry Serving Heroes – an amount equal to 15 percent of the total sales of its products, whether through its bakeries, its retail outlets or online, made on Veteran's Day. The company will also contribute a year's supply of its dog food and treats to the recipients of its service dog initiative.


The nonprofit FISH engages the food industry in serving military veterans who have sacrificed greatly to guarantee U.S. freedom. With the donations from the Three Dog Bakery Veteran's Day promotion, FISH will purchase service dogs to distribute to veterans in need.
Returning military personnel and veterans face a myriad of challenges that can be aided with the use of a service dog, from Post Traumatic Stress Disorder (PTSD) to immobility. The Bureau of Labor Statistics reports the U.S. has 1.6 million veterans from Iraq andAfghanistan conflicts, 21 percent of who suffer a service-connected disability.
Read the full text of the article here