Archives
May 2021
Oct 2020
Dec 2016
May 2016
Apr 2015
Dec 2014
Nov 2014
Jun 2013
Mar 2013
Feb 2013

Category - BeautifulPlaces


Posted -

06/11/2013 09:55pm
BeautifulPlaces acquired McLaughlin Anderson Luxury Villas
BeautifulPlaces acquires Caribbean vacation rental company
By Dan Verel, Business Journal Staff Reporter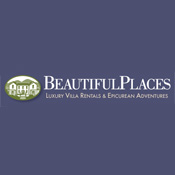 SONOMA — Sonoma-based luxury lodging management company BeautifulPlaces acquired McLaughlin Anderson Luxury Villas, a 28-year-old U.S. Virgin Islands vacation rental company.
Based in St. Thomas, McLaughlin Anderson represents a collection of more than 100 upscale villas, estates and vacation homes in the U.S. Virgin Islands, British Virgin Islands and Grenada. Launched in 1985, the company, under the guidance of co-founder Nancy Anderson, is said to have spearheaded development of the villa rental business in the Caribbean.
Financial terms of the deal were not disclosed.
"By acquiring a premier villa portfolio, and an iconic company and recognized authority of our industry, we have vaulted BeautifulPlaces into a leading position in the luxury villa segment," Patrick Smith, founder and chief executive officer of BeautifulPlaces, said in a statement Tuesday. "Having more destinations and products to offer high-end travelers will allow us to leverage our core strengths in hospitality and on-the-ground guest services for the benefit of all our stakeholders. Going forward, we intend to be at the forefront of our exponentially growing segment of luxury villa travel."
BeautifulPlaces said it will continue to operate McLaughlin Anderson Luxury Villas under that name. Ms. Anderson will be a staff adviser to the vice president general manager and a member of the board of directors.
"We are thrilled to become part of a company that has both an in-depth understanding of our evolving industry and a vision for the future," Ms. Anderson said in a statement. "The resources BeautifulPlaces brings — from sales and marketing expertise to specialization in unique guest services — will significantly expand our opportunities for growth and greater success."
BeautifulPlaces (beautiful-places.com) is a luxury villa hospitality management company that exclusively represents villas and estates across California, Colorado, Florida, Massachusetts, New York, Wyoming, the Caribbean, Costa Rica, France, Italy and Mexico. The company started with 10 properties in Napa and Sonoma when it was founded in 2003. Today, it has a total of 315 properties available to rent worldwide.