Simmons Pharmacy
29 East Napa Street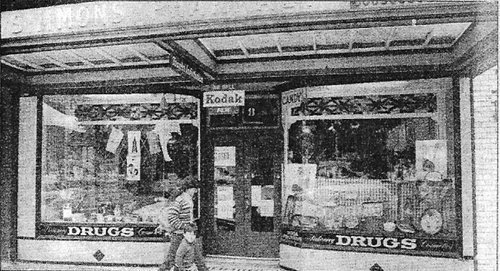 29 East Napa Street Sonoma, California 95476
As a very young man, Lloyd Scott Simmons came West by covered wagon to Southern California. He first had a drugstore in Chino, then briefly in Oakland. Young Mrs. Simmons persuaded her husband to move to Sonoma. He established his pharmacy on the site of the earlier Miller & Pauli Store in 1903. Gladys Simmons Dodge was just a few years old when they arrived, but, in 1982, she still describes Sonoma' s unpaved streets and tells how cows and horses were encouraged to feed in the Plaza to keep down the weeds.
Mr. Simmons soon had a reputation for his ice cream which he made every morning before the store opened for business. . He .made three kinds each day but once his prescription business became important, he had to hire a boy to help and to make the carbonated water for the fountain as well.
Gladys Simmons Dodge also recalls the damage done to the pharmacy by the 1906 earthquake. Hundreds of bottles were knocked off the shelves. The root beer barrel, was cracked and broken open.
The first telephone switchboard in the Valley was installed in Simmons with Mrs. Simmons in charge.
In April, 1907, the Sonoma index-Tribune wrote, "L. S. Simmons, the prescription druggist, has installed a modern Parisian Ice Cream Cone Oven, and is turning out the nicest article in the market. Yum, yum, but they are good. 5 cents."
In 1910, the paper also reported, "L. S. Simmons has installed a handsome, up-to-date soda fountain in his drugstore." While Gladys Simmons Dodge is certain that there was an earlier "soda fountain", This is probably the one with the marble counter which has been a distinguishing feature of the store for so many years. Mrs. Dodge believes that it was about this time the present facade of the building was constructed during a businessmen's effort to improve the appearance of the Plaza area. Originally an all-wood structure with an Italianate false front, the facade was altered by stucco and tile and a canopy added.
with his expanding business, Simmons had to stop producing his ice cream and Borden's became the supplier making deliveries every other day. However, Simmons continued to create his syrups until he died.
In 1911, Simmons invited patrons to "try our invigorating and refreshing soda, with pure crushed fruit for flavoring, and our phosphates are most refreshing. Everything is purest and best."
During L.S. Simmon's illness, in 1922, his son-in-law, Neal Dodge, became his partner and played an active role in managing the business.
"(Simmons) has added a fine modern Frigidaire, the first of its kind in Sonoma County, to his ice cream equipment," reported the Sonoma Index-Tribune in 1924. About this time, "a special mezzanine floor ice cream parlor" was also installed.
Simmons soda fountain was a popular place to have lunch over a number of years. Long-time Sonoma resident Aileen Brown remembers the

generous sandwiches and strawberry milkshakes.
In 1950, Neal Dodge succeeded Mr. Simmons as owner. In 1954, Willis O. Helms became the owner. In the late 1970's, the Detert family bought the business.
The marble soda fountain remains the star attraction.
"L. S. Simmons had his drug store painted a brilliant yellow and made other improvements about the place."
- Index-Tribune, June 3, 1916